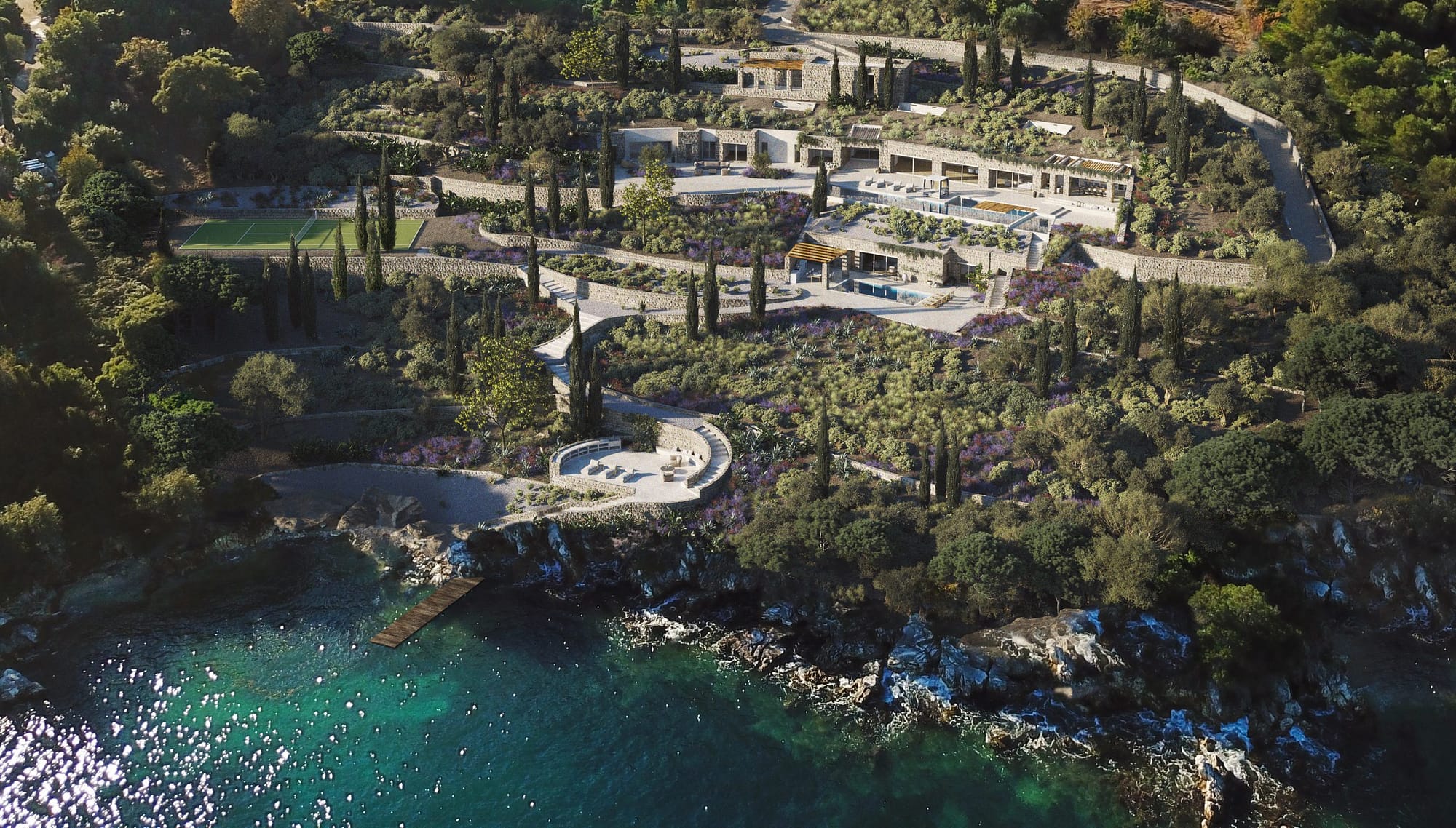 For the purpose of reconfiguring the virgin untouched landscape, a dialectical communication between architecture and the Topos is employed; the ways human intervention can establish a harmonious relationship with nature is investigated.
Our project's location is a seaside property with predominant vegetation of low shrubs and wild olive trees. The property was treated in respect to its typology, its energy, its terrain, and the placement of the dwellings in the land. The Northern orientation of the properties enables the development of large openings, ensuring the greatest penetration of light in the space; the lines between internal & external space are blurred whilst the gaze towards the natural landscape and the sea is enhanced and highlighted.
Interventions beyond the immediate surroundings of the houses will be kept minimal and mild, using stone to create paths and variable levels where required.
Existing trees are preserved. Landscape will be enhanced with plants indigenous to the topos such as cypresses, laurels, locusts, maples, elms, arbutus, skins, myrtles, heather and aromatic plants. Creeping and shrubby varieties will be placed in the roofing of the cave buildings.
At the end of a small road the property begins. By approaching, it is revealed in front of us the morphology of the landscape, a steep slope that ends at the sea, the wild and rich vegetation characteristic of the area. The intention is to leave the smallest footprint in the landscape and for that it has been chosen for the development of a "cave house", an underground building that can be discreetly concealed. It has been designed as a piece of landscape rather than a building. By hiding the majority of this structure beneath the landscape a spacious house is created on this site which both embraces the view and retains the natural charm of its location. A vertical section on the landscape creates the base where the house sits and the buildings through a relation of induction and interdependence with the landscape redefine it.
As a result, the underground living spaces are invisible with only the façade to be visible overlooking the sea. The only evidence of the house is the small stone building with its pergola that defines the entrance to the main living spaces. The building unfolds on two levels to allow space for multiple bedrooms, bathrooms and terraces with private sea views and swimming pools. The building splits between the main and the guest house. Stairs and ramps have been gently adapted to natural ground levels and lead to the guest house up to the sea. In general, the interventions in the wider surrounding area will be the least possible, taking care of the existing flora to be completed where is required.